Texthelp PDF Reader is Now OrbitNote with Office 365 (Online) in Google Chrome Browser or Edge through OneDrive

TextHelp's PDF Reader is an approved browser extension in use across the district. It is part of the Read&Write suite of tools. PDF Reader has undergone a significant redesign and has been rebranded as OrbitNote. More information on this change is available on TextHelp's website.
Staff and students may be prompted to sign up for OrbitNote when they first attempt to open a PDF using the tool. Follow the prompts to install OrbitNote (see below). There should be no loss of functions compared to PDF Reader, however some of the tools may be in new locations or have slightly altered icons.
When selecting the OrbitNote Icon or extension

for the first time .
Choose Sign in with Microsoft in SD71 Comox Valley.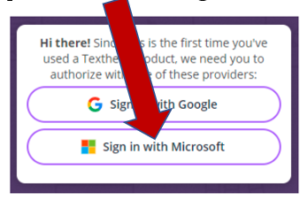 Sign in with your Office 365 account you school district email and password.
When prompted, Accept permissions.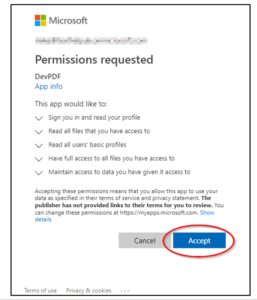 File Types Supported
INFORMATION:
Use the Google Chrome or Edge Browser
Google Chrome Extension  OrbitNote Extension
Edge Extension OrbitNote Extension
Installed on all SD71 computers
All staff and students have access to OrbitNote and Office 365
Can be added to home or BYOD computers
PDF File needs to be uploaded to OneDrive or opened in the Browser
PDFs need to be an Accessible PDFs
Available in multiple languages including French
FEATURES:
Read text aloud
Look up words in the Dictionary and Picture Dictionary
Translate words
Highlight text
Build vocabulary lists
Typewriter Tool to annotate files or fill in the blanks
Word Prediction
Dictation
Freehand drawing tool
Shapes Drawing tool
​TIP SHEETS:
OrbitNote with Office 365 Uploading a file to OneDrive
Writing on a PDF with Speech to Text on the computer
Downloading a PDF from Canvas to open in OrbitNotes
Saving printing a OrbitNote PDF document with annotated text input
OrbitNote Toolbar-chart – Microsoft
LINKS:
Using Texthelp's OrbitNote Extension In Chrome with Office 365
VIDEOS:
OrbitNote Overview
Using OrbitNote and Read&Write for Chrome at home or on BYOD devices with SD71 account:
If you would like to install OrbitNote extension for Google Chrome at home or on BYOD computers:

1. Make sure you have Google Chrome Browser loaded. ​

2. Go to the Chrome web store and install the OrbitNote Extension and Read&Write Extension 

3. Once the above steps are complete and these 2 extensions are installed you will need to use OneDrive to access PDF documents. You can also use Read&Write by clicking on the Read&Write rw purple puzzle piece in the Chrome extensions area. Select and Signing in with Microsoft and Log in with your SD71 email.  
Student #@learn71.ca
4. Please also consider installing the Screenshot Reader
SAMPLE PDFs:
How to Survive the First Morning of Daylight Savings Time 8.19