One touch of nature makes the whole world kin.
~ William Shakespeare​
Local Nature Educators,
Programs & Guests
   Outdoor & Environmental Education during COVID-19
Check out the below outdoor education sites to share with your parents during COVID-19 times. More amazing resources under the Teacher Resources Section
Nature Based Activities to do at home
or near by nature area. 
Click the PDF link to see a list of some of my favourite, simple, outdoor activities to do outdoors with your students/children.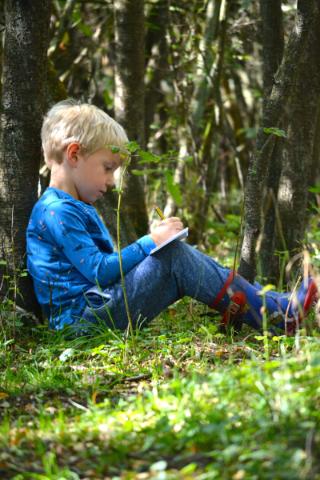 Sit Spots
Sit Spots are a great way to Get-Out-of-Doors with your students with minimal prep.  It will take time for them to get in the routine but guarantee they will look forward to it if you do it often enough.  Consider once a month to start or even once a season. 
Thank you to Naomi Radawiec with School District 71-Comox Valley for the great sit spot resources. Check out her class book of sit spot experiences below, their class Math-in-Nature video, and her student sit-spot guides.
Class Book 
– I interviewed students asking the questions below 
– it would be ideal to have volunteers or other staff to help interview so that you could get it done faster 
– Or you could get them to write themselves to answer the questions rather than you interviewing them. 
Questions for interviews 
– Tell me about your sit spot. What do you see, hear, smell, touch, feel (emotions) and wonder? 
– What do you like about learning in nature?
– What can we learn from nature? 
– How can we take care of the earth?
– Why is it important to take care of the earth?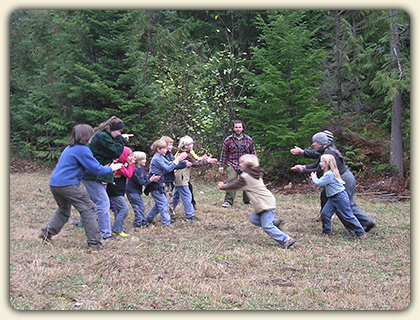 Nature Based Games
Here is a great list to start from for field and forest games to play with your students.  They take little prep and are a fun interactive, and energetic way to learn about the natural environment.
Includes:
Circle Games  —  Cooperative Games —  Adaptive or Special Needs Games  —  Dramatic Games  —  High Activity Games  —  Large Group Games  —  Nature Games  —  Camp Games  —  Quick and Easy Games  —  Rainy Day Games  —  Sports Orientated Games  —  Tag Games  —  Water Games
More Nature Based Games
Habitat and Conservation Trust Foundation – WildBC
Free well-established lesson ideas on a broad number of topics, Grades k-9
​​​​​​​​Energy, Atmosphere, climate

​​​​​Earth, eco-systems, ecology​

​​​​​​Plants Animals Habitat

​​​​​Water, wetlands, Watersheds

​​​​​Outdoors Projects and places

​​​ Teachers Tips and Tricks
Project WILD is an interdisciplinary conservation and environmental education program that focuses on wildlife and habitat. The goal of Project WILD is to develop awareness, knowledge, skills, and commitment resulting in informed decisions, responsible behavior, and constructive actions concerning wildlife and the environment. 
​​
  Comox Valley Parks/Trail Systems
Consider walking, biking, or taken public transit to some of our amazing and accessable park and trail systems in the Comox Valley.  
The picture will link you to a website designed for Comox Valley teachers to re-introduce you to some of our local parks: produced by fifth year students at VIU-Vancouver Island University as one of their final projects. 
Here are a few more to consider (let's keep adding to the list):
Browns River

Bevan Trails

BC Hydro Puntledge River Trails

Nymph Falls

Cumberland Lake Wilderness Society Trails

Comox Valley Green Way and Brooklyn Creek Trail System

Williams Beach

Kitty Coleman
Canadian Wild Life Federation has resources that help fit Environmental and Outdoor content to the curriculum, provides unit plans, and individual lessons.  Use the filter to narrow your search on the topic and grade level. 
The average child can identify over 300 corporate logos, but only 10 native plants or animals—a telling indictment of our modern disconnection from nature. Soaring levels of obesity, high rates of ADHD, feelings of stress and social awkwardness and "Nature Deficit Disorder" are further unintended consequences of a childhood spent primarily indoors.

The Big Book of Nature Activities is a comprehensive guide for parents and educators to help youth of all ages explore, appreciate and connect with the natural world. This rich, fully illustrated compendium features:
Nature-based skills and activities such as species identification, photography, journaling and the judicious use of digital technology

Ideas, games and activities grounded in what's happening in nature each season

Core concepts that promote environmental literacy, such as climate change and the mechanisms and wonder of evolution, explained using a child-friendly, engaging approach

Lists of key species and happenings to observe throughout the year across most of North America.
​
​
By Jon Young, Ellen Haas, and Evan McGown
Coyote mentoring is a method of learning that has been refined over thousands of years, based on instilling the need-to-know. 
Coyote's Guide to Connecting with Nature, 2nd Edition
 reveals this approach and what happens to student and teacher during the mentoring process. Strategies like questioning, storytelling, tracking, mapping, and practicing survival skills will inspire student curiosity and encourage self-sufficiency. Background information will help parents, teachers and others feel more confident in introducing children to new ways of experiencing and learning about the natural world.
​