District Bikes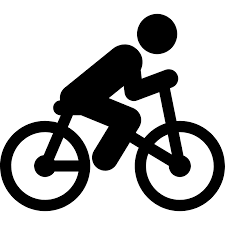 NOTE:  You MUST submit a work order for the bikes to be delivered to your school or community location.
District Bike Booking Process:
Record how many of your students will need access to borrow the district bikes – we encourage your students to use their own bikes to honor parents investment.


Communicate with others on staff to optimize the bikes booking with other classes.

Please limit your bookings to max two week intervals

1.  RESERVE bikes using the

calendar

icon on the right hand side of this page – this only

communicates

to others the bikes are in use.

2. ***

Submit a work order

for the bikes to be DELIVERED to your school, please be specific about "no later" and "no earlier" delivery and drop off times.  Please be specific where to park trailer on school grounds, preferably on the field behind a yellow gate. reflect the dates and times you have the bikes booked. 

DEL-Request for District Bikes

Bikes are transported in a 22 ft. enclosed trailer.

Be sure to obtain the PINK bike trailer key, it will be left at the front desk of your school. 


There are multiple locks on the trailer, the one key will open all the locks.
How to reserve District Bikes
Step 1 – Click on booking calendar icon on the right side of this page
Step 2 – Choose your dates 
Step 4 – Fill in contact information on booking calendar.
Step 5 – Submit your booking request.
***Step 6 – Have your senior administrative assistant submit a work order to have trailer and bikes delivered to your school.  Important:  Include Subject: DEL-Request for Bike Trailer, specific location, no sooner than and no later than time and dates. 
Note:  If you would like the bikes brought to a separate location in the community during your booking you must submit another work order to have the bikes delivered and picked up for that day.  Please clearly communicate location, dates, and times for this second work order. 
If you have any questions please contact Serina Allison – serina.allison@sd71.bc.ca
Districts Bikes come equipped with:
Community Support
&

Cycling Resources
Build on biking skills with support from Gravity Mountain Biking.  Call or email directly to find out more information on how they can support your school program.  GMB is happy to meet and support your biking program off site too!  

HUB-Cycling Connection- Learn2Ride
Register your students or work through the program as a class for free.  Comprehensive age appropriate resources to guide you through all elements of a school cycling program.  Choose what works best for you and your class. 
Bike handling skill development PDF printables
Bike-Lesson 1 – Intro to bike handling skills
Bike Lesson 2 – Advanced bike handling skills
Day 3 biking lesson- Intro to road riding (under development)
Day 4 biking lesson- Advanced road riding (under development) 
Hill Climb-2 & Gear Change