Please scroll down to find more information.
How to Find Microsoft Teams at Home:
Go to our school district web page (comoxvalleyschools.ca)
Click on Utility Links in the top left corner (or the middle on a portable device)
Click on Office 365
Your username is your school email address (for students: Student#@learn71.ca)
Your password is the same one that you use at school
You can click on the purple icon for Teams

---
Should I Download the App?
Yes, if you can, it is great to have all the office apps on your computer and/or your personal device. Notice when you go in to Office 365 online you can click on Install Office in the top right of your screen. Go for it!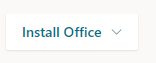 ---
Creating a Class Team:
To create a Team for your class:
 Open Microsoft Teams
Click on Teams on the left
Click on Create or Join a Team in the top right. If you have your Teams organized as a list rather than boxes, you will see the Create or Join a Team link at the bottom left.
Now click on Create a Team
Choose the type of team you would like to create- in this case it is a Class
Give your Class Team a name
Now add your Students-you should be able to find your attendance class group that will add your class all at once.
If you would like to share your Team with other teachers, click on the Teacher tab at the top and add other teachers here.
When you are finished, click on Close.
Below is a short video to show this:
Accessibility tip: Immersive Reader for Microsoft Teams
Available in Assignments, Posts and Chat
FEATURES:
Brings text into a focus window and students can use text supports:
Text to Speech
colour contrast
larger font sizes
picture dictionary
line focus
translation
LINKS
Use Immersive Reader in Microsoft Teams
VIDEO
Immersive Reader in Microsoft Teams
Accessibility Tip: Live captions in Microsoft Teams
Helpful support for students who are deaf and hard of hearing, English language learners and students who struggle with auditory processing.
FEATURES 
Available only in Teams desktop and Team iPad app
English only
LINKS
Use Live Captions in a Teams Meeting
VIDEO
Live Captions in Microsoft Teams