Ministry Curriculum resources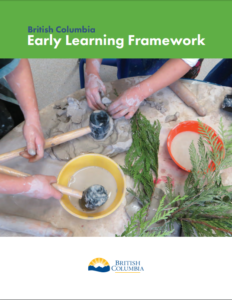 This document is full of information and ideas about the "whys, whats and hows" of play in the classroom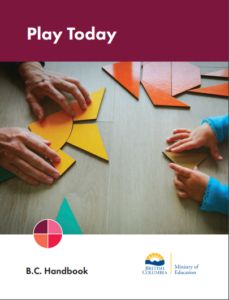 Talking to Young Children about Residential Schools
Talking to Young Children About Residential Schools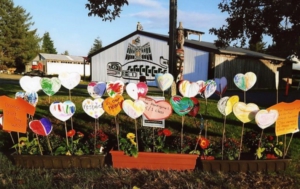 In September, Colleen Devlin, our Indigenous Kindergarten program teacher, presented to our teachers on this topic.  Her wisdom and experience is so helpful to us. We are grateful for the suggestions she provided and the warm and caring way she approaches this topic. Click on the link to see her written piece she shared with our teachers.
Outdoor Learning
Megan Zeni's blog has everything from gardening to free play in the forest and ways to organize materials and time:
10 Simple Outdoor Lessons
Here is a copy of the presentation Jodi Allesia did at the Primary Extravaganza in Richmond on May 1, 2019: https://thewildflowercommunity.wordpress.com/2019/05/20/10-simple-outdoor-lessons/
Getting kids outdoors has significant benefits for both their physical and emotional well being. To help you engage in fresh ways with your students outside, here is a practical article on 20 Sensory Outdoor Play Activities.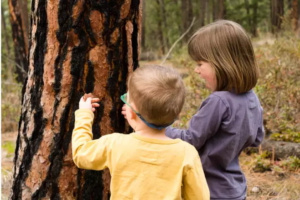 Expanding on her work, The Walking Curriculum, Gillian Judson partnered with Heidi Wood to collect the inquiries of teachers who used community walks to integrate Indigenous knowledge and ways of being with outdoor learning.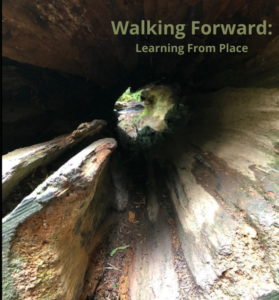 The Outdoor Learning Store provides this compilation,  "Walking Forward: Learning From Place"  as a free download. It has a wide variety of walks and inquiries, great questions to prompt discussion and examples of student quotes and responses as they engage with the places where they live and learn.
Read aloud recommendations
from the Daily 5 "Tip of the Week", Jan 7, 2022
Lori Sabo
Issue #699
A lot of New Year's resolutions are worth making and keeping, but the one I am begging us all to consider is to read aloud to our students every day.
Why? The benefits are tremendous. Our students usually have a higher listening level than reading level, so they are exposed not only to an excellent model of fluency and phrasing, but also to richer vocabulary and more complex stories than they can access independently. In addition, a shared read-aloud builds a deep, rich sense of community.
Tips
When: In addition to shared texts during instruction, a read-aloud just for enjoyment can provide a smooth transition after lunch or a satisfying conclusion to the end of each period (for older students) or the day (for elementary students).
What: If we choose books we love that are infused with rich language, captivating characters and story lines, and appealing illustrations, our students can't help but be transported.
Rehearse: Preview. I can't emphasize this strongly enough. We don't want to be surprised by a swear word, mature content, or dead dogs. Also, when we preview, we can determine stopping points to maximize engagement and elicit the chorus of "Don't stop there!" that inevitably comes with a well-timed break.
Techniques
Pace and Volume: By paying attention to the words as we preview, we'll know when to pause, get louder, get softer, speed up, and slow down. Louder and faster typically conveys excitement and drama. Soft or slow will be just right for dark or suspenseful moments. Don't be afraid to perfect the pause.
Expression: This became even trickier during a pandemic, didn't it? But even with a mask on, we can impart a lot with our eyes. They widen, narrow, shine, and on occasion tear up, drawing students into each moment. And the expression of our voices will often communicate the meaning of words. A hushed voice for whispered and a louder voice for exclaimed are just two examples.
End Well: If we want our audience to sigh with contentment when a story ends, we won't rush the last line. Thoughtfully reading the last line releases students from the grip of the tale.
Titles: There isn't enough room here for me to give you a complete list of all my favorite read-alouds, but I can give you 20 of my favorites. Read about them to see if they are a match for your audience. (note: these links open in amazon.com)
Picture:
Chapter:
By the time you have read this, I will already have broken my resolution to walk every day and eat a little more healthfully. But reading aloud every day is an easier resolution to keep. I hope you'll join me, and I wish you a hundred magical moments with the students you bless with stories.
Books that represent kids on the autism spectrum
Looking to build or refresh your classroom library? Here are collections curated by Lucy Calkins. 
The Power of a Great Classroom Library
Kids who have access to great books become readers. There is simply nothing that makes teaching reading easier, that gets kids reading with tremendous volume, or that lifts reading skills higher than a collection of truly fabulous books.
The Teachers College Reading and Writing Project has developed state-of-the-art classroom libraries for each grade level, K–8. Curated by Lucy Calkins and TCRWP colleagues along with a team of literacy leaders and children's literature experts, these libraries contain 400–700 leveled books at each grade level—all organized into collections and shelves based on level, genre, topic, and available in versions for students reading both at and below benchmark.
Literacy
The Balanced Literacy Diet
Created and hosted by OISE in Toronto, this project comes out of the research on creating strong readers and literate citizens.
While some of the content is American in origin, this site is curated by the University of Toronto.
There are literally dozens of good videos and lesson plans here, that cover everything from Concepts of Print, to genre studies and word study, ages preschool to grade 6. It's a treasure trove!
POPEY is the BC go-to site for all things literacy. From oral language and word work, to reading and writing assessment, they cover it all.  They also have a very full YouTube channel and packed resource page of past workshops, online home learning lessons, and other supports. https://popey.ca/resources-and-support
If you are interested in learning more about Story Workshop, here are some excellent resources: 
from SD39 (Surrey) a complete set of workshop slides and suggestions. 

Also available here are some further readings on Oral Language, writing development and a writing continuum.
From SD 23 (Central Okanagan) a whole library on "Thinking with Materials".  This treasure trove is useful for Story Workshop, Inquiry, ADST and Art, to name a few. All of it is about the thinking! It includes many documents from Opal School. Lots to choose from on this site.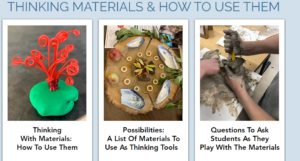 A̱m'lala sa Ḵ̓umux̱se'
Here is the link to the song by William Wasden Jr. that was gifted to Comox Valley Schools: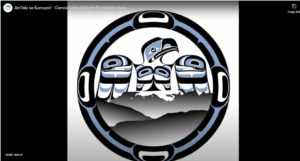 A̱m'lala sa Ḵ̓umux̱se'
On this page you will find the recording, the words and the history of the song.
Here is the animal dance  that Colleen Devlin shared with us, that she and Brooke use with the song.
There is the Kwak̓wala word, the phonetic pronunciation, and the English word, as well as the actions that go with each animal. Don't forget that as you are learning the rhythm and timing, you can always insert the actions of "Mu'lan"–"we are grateful" or 'Gilakas'la'–"thank you", as you dance in the circle.
And finally, here is the link to Brooke's class doing the dance.
Click here to add your own text