Click on the Inquiry Question links below to see the full survey response and learn what each PLC group is exploring.
2015-2016
Chatter Board – School wide discussions on community and world topics to increase community connection.
How can we go about implementing E-portfolios and get parents and students involved in the assessment process?
2014-2015
2013-2014
Social Thinking Strategies
Social thinking strategies were to be taught to all grade levels, beginning with primary, through class instruction, small group instruction and individual targeted instruction.
PLC Process or Assessment tools: As a whole staff, we decided what areas of Social Thinking required to be taught first at our school. We also decided to start with the primary grade levels for whole classroom instruction. Through our School Based team, we identified students requiring additional support in the area of Social Thinking and created small groups of students requiring similar supports and had the LST, CST, or school counselor work with those students. We also identified individual students requiring one-on-one support and attached either the LST, CST, SLP or school counselor to work with those students. One of the assessment tools we used to document the effects of this work was tracking office referrals (student behaviors).
Outdoor Classroom PLC
Our main focus was to incorporate learning outcomes into an outdoor classroom approach to teaching to improve student engagement and student achievement. Some highlights include a strengthened buddy system between classrooms whereby older students teach younger students about various outdoor topics (identifying tree species, identifying plant species, indigenous ways of knowing, preservation of Cumberland Forests, etc). Partnerships have been formed between staff members of same and differing grade groupings. Deeper conversations about student learning are occurring at our school through the mechanism of outdoor learning. Parents and students have expressed their support of this new way of learning in our school on many occasions to teachers and administration.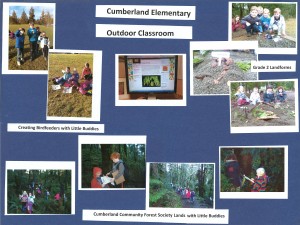 Click on image to open it and use your browser controls to enlarge.
Describe in relation to the work of the PLC teams in your building, how this work is
having a real life impact on student achievement.
Our social thinking work has had a positive effect in our school. Our students at the top of the pyramid (requiring the most intervention) have improved greatly in their ability to manage themselves in various social situations. Several of these students have 'graduated' from receiving direct intervention allowing new openings for newly identified students receiving this support. Within the general classrooms, consistency among staff using a common language of Social Thinking has improved student behaviors throughout all grades. With our outdoor classroom PLC we have noticed that our students are more engaged at all age levels throughout the school day as a result of outdoor learning being incorporated into their day. An increased connectedness to the community of Cumberland has also occurred through outdoor learning (i.e. The Cumberland Community Forest Society, The Village of Cumberland's Park System, The Komoux First Nations, etc). In terms of student behaviors at our school, office referrals have declined dramatically over the past year (which is a reflection of both our PLC's: Social Thinking and Outdoor Learning). We kept track of office referrals in 2013-2014 and saw them declining steadily during that time and they have kept being low for the 2014-2015 school year.