Literacy ideas
Writing Personal Narratives using Cartoon Instructions!
Thanks Sarah Beynon-Brown for this suggestion!  Student example coming soon!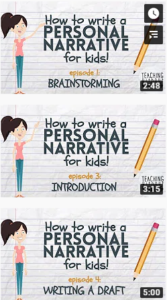 Check out each child-friendly episode that describes the steps associated with writing a personal narrative:
Episode 2 ~ Planning and Pre-Writing
Episode 3 ~ Writing an Introduction … hook your reader!
Episode 4 ~ Writing a Draft (main ideas, transition words, details)
Shelley Moore ~ 5 Moore Minutes … Learning at Home
Using Virtual Field Trips to Inspire Writing!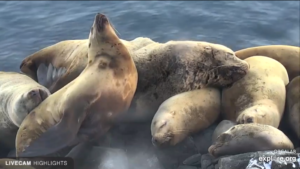 Some of the best writing done by students takes place after a rich experience like a field trip.  So why not check out some live cams and take a virtual field trip to inspire writing!  At Webcamtaxi any country in the world can be chosen … visit a place or check out live animals like the steller sea lions of British Columbia! Just because you can't hop in a car and drive to Tofino right now, doesn't mean you can't check out the action at Chesterman Beach!
After watching any one of these live web cams, invite students to write in role pretending they were actually there.  Sensory descriptions can be a nice way to add details to writing.  What did you see, hear, smell, taste, touch?  Challenge students to avoid using the words, see, hear, smell, taste, touch as they write.  Instead, words like I noticed … or I detected the scent of … or the splash in my face … will create a more sophisticated piece of writing.  Have fun on your virtual field trips!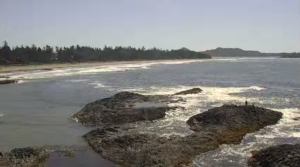 Connecting to others through Cooking!
Connecting to others through Cooking: Wonder Writes

In this Spring of 2020, parents working from home also have the added challenge of keeping their kids independently occupied so that they themselves can work. For daily duties that need to happen anyway, such as cooking, you might want to consider enlisting the help of your kids. Cooking can be a science lesson (let's talk about how yeast works), a math lesson (what's a half cup plus a quarter cup?), or a reading lesson (does this mean I mix these ingredients separately?) and it provides opportunities for kids to learn about nutrition as well as foods and flavours from around the world. Have fun whenever possible. Shape melted chocolate into letters and numbers using a makeshift piping bag. Once they harden, have fun eating your own words!

Ashley Fetter the Atlantic March 16th, 2020

Cooking through Countries

Sora has a number of cooking non-fiction reads:

https://soraapp.com/library/comoxvalleyca/subject-14/page-1

Becoming a spice spy….before you choose your favourite type of food resource to explore, examine the spices in your pantry. What flavours/spices/cuisine does my family enjoy? What flavours and recipes are passed down through our family? What spices have been in the cupboard along time? Do spices go bad after a while? What spices have you never heard about?

Create a wonder survey to ask your relatives and friends on your next virtual chat.

Maybe ask: I wonder with all the world's spices which ones do you and your family cook with? Which spices to do you avoid? Are there herbs that you like? Herbs that you avoid?

The Omnivore's Dilemma Young Reader's Edition

Looking at the age-old question: What should we have for dinner?

'From fast food and big organic to small farms and old-fashioned hunting and gathering, this young readers' adaptation of Pollan's famous food-chain exploration encourages kids to consider the personal and global health implications of their food choices.'

The photos, graphs and visuals create notice and wonder opportunities for writing. What do you notice that pertains to your family? or Our community on Vancouver Island? I wonder how Pollan's ideas apply to Canadian families?

Enemy Pie      https://www.tumblebooklibrary.com/book.aspx?id=4172

How does food bring us together?

I wonder what the social significance meals have to my family?

Consider writing a family recipe and sending or emailing it to a relative. I wonder what recipe may come back you? Write about family foods and maybe the wonders you have of traditions which go back. Where did these traditions stem from?

Food shot photography:

https://kids.nationalgeographic.com/explore/my-shot-galleries/food-photography/

I wonder how or where I might place this food for a photoshoot. What look am I going for? I wonder what lighting will showcase this food's clever characteristics.

In your wonder write consider writing a letter to a publication, introducing yourself as a food photographer. Writing in role means you can notice things in the photographs you take and showcase your skills to apply for a fun job.
For some Earth Week activities please click on the World!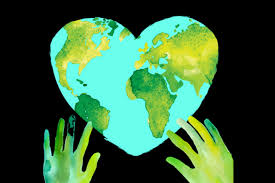 Check out NEWSELA for great current events articles.  Sign up is simple, instant and free until the end of the school year.  You can even create assignments for your students with suggested ideas from the NEWSELA team! When students login in to NEWSELA, their assignment from you will appear!
Tumblebooks has offered free access to family and educators.  Using the table below families are invited to choose a book and participate in playful literacy activities. To login to Tumble books and find the books shown below, click on this link:
The main character in Enemy Pie was convinced the pie his dad was making was filled with ingredients best suited for enemies.  What would you put in an enemy pie?  Create a recipe.  Be sure to include each ingredient and how much to use!

Once your enemy pie recipe is created, make up a pie recipe like the one dad made.  You can look online for recipes to get ideas.

In this book, sloth finds a quiet, slow-moving friend. What do you like to do when you slow down?  Who do you like to be with when you slow down?

Draw and write about a favourite slow-down activity.  Remember to include lots of details in your drawing and in your writing.

Get ready to be creative!  Write a great big, long list of animals.  Now, choose some of those animals and write what might happen if you try to read to it!

Example:

You can read to a kangaroo but be prepared to read while you're hopping up and down!

You can read to a chameleon, but …

Imagine driving a fire truck yourself!  Create a piece of writing in which you describe in detail all the fun you have. Make sure you include the exciting details about the challenges you run into as a new driver!

Draw a picture to go along with your writing.

The giant did not understand proper health routines for coughing or sneezing.  Write a letter to the giant explaining how it's supposed to be done!

Create a different soup recipe for the giant's cold-curing soup.  What items would you put in it? Provide directions how to make your soup.

As an extra challenge, try to create a rhyming set of ingredients and directions

Create your own indoor tent using sheets and sofa cushions (ask permission first.!).  Inside the tent, curl up with some good books or listen to Tumble Books online!

While inside your tent think of all the things a camper might need.  On a piece of paper, write down each letter of the alphabet.  Try to think of something a camper might need to match each letter!  You can choose 4 letters to write the word, FREE beside it.  That means you don't need to write anything down beside those letters.  Hint:  write free beside the letter X!
                                                                                                                      Connecting to Feelings: Wonder Writes

Kids are no different than adults …..when they focus on ideas and information that they care about, when they conduct research to satisfy their own curiosity, they will craft lively, interesting writing just brimming with passion.     Melissa Stewart blogpost: https://www.melissa-stewart.com/

Madalena Moniz wrote a book through the alphabet of feelings. She did not hold back in choosing rich vocabulary not usually associated with ABC books for young children.

Play with a thesaurus today. Wonder what emotions & feelings words would you include in your wonder write.  https://kids.wordsmyth.net/we/

 

I wonder if there are 26 words to describe my feelings today?

When you Are Brave by Pat Zietlow Miller    https://www.youtube.com/watch?v=q_IcXC8dyeM

Our worries and our wonders are connected. After you listen to the story When you are Brave, consider yourself and your wonders. List things that concern or worry you. When do you know you need to be brave? How do you know that you are brave?

The Don't Worry Book by Todd Parr

https://www.youtube.com/watch?v=bqmNyLcWvS0

Sometimes I'm Scared When by Todd Parr

https://www.youtube.com/watch?v=4RupBjV5-N0

I wonder what worries I could write about? How do I face my worries?

You don't have to own binoculars and know a bunch of fancy Latin names to watch birds! No matter where you live, they're in your neighborhood just look up.   https://www.youtube.com/watch?v=wpU7i_lh4gY

I wonder what I have around the house to help me bird watch?

What do you notice? What do you wonder? When you are out on a backyard bird watch. Where will you record your wonders? How might you draw your 'notices'?

Look up in wonder and record your observations.

Returning to this favourite picture book: Scaredy Squirrel by Melanie Watt

https://www.youtube.com/watch?v=mYuWUs1roks

What do you notice about Scaredy Squirrel this time you listen to the story? Picture book authors share many character feelings through words and illustrations. Choose an emojii and develop a wonder write around it.

What Matters by Alison Hughes This beautiful book is available through Follett Destiny on sd71 website in ebook format.

Wondering: How can one tin can affect so much?

Noticing: What are the effects of paying attention to one small thing?

A feeling of mattering is so very important. We matter to others and are there ways we can let others know they matter to us. I wonder how we might show our care for others today…
Numeracy Ideas …
The Math Learning Center

The Math Learning Center (MLC) is providing free resources for all students to use independently or with support from family members or educators.

This fabulous free website also provides accessible, virtual manipulatives for students promoting the visual side of mathematics. You will love these ! Students will love these!

Free apps (also for your home computer)

Youcubed at Home

Here you will find engaging tasks to help K-12 students at home continue to explore and learn maths in rich and creative ways. Youcubed provides visuals, games and lessons to engage families. Free online student course.

SD38 Weekly Plans, created by Janice Novacowski, are meant to be used as a "menu" of sorts, for teachers to choose from to respond to their students' and families' needs. Some students and families may want a daily math task while others will be happy to have a few things suggested for them to choose from for the week. Some could be used to do together if you do an online class meeting or other type of online interaction. For those of you doing eporfolios, you could ask students to submit one task a week, sharing their mathematical thinking. Math interviews can be done on the phone – here's a question, how could you figure it out? Lots of different options to share and communicate with families. link